Tell your story and enter to win $250 through the Student Center Photo and Video contest!
The Canadian Bureau for International Education would like you to send in a photo or video that represents your  international education story!
Deadline to enter your photo or video: October 13, 2014.
Details on the contest are available here.
Looking for inspiration? Here are the 2013 Photo Contest Finalists!
 1.

Christine Brett, Simon Fraser University: This photo was taken on Table Mountain in Cape Town, South Africa during my study abroad exchange this past spring. The vertical climb took an hour and a half. The view from up top was more than worth the effort and perched on a rock overlooking the city and the ocean I gained a new perspective, both literally and figuratively.
2. 
Indira Riadi, University of Toronto: Six weeks after I set foot in this country, five weeks after I began my academic journey at the University of Toronto, I have never felt so at home. I would never have thought that meeting and making new friends from various parts of the world could have been so easy and, at the same time, so rewarding.
3.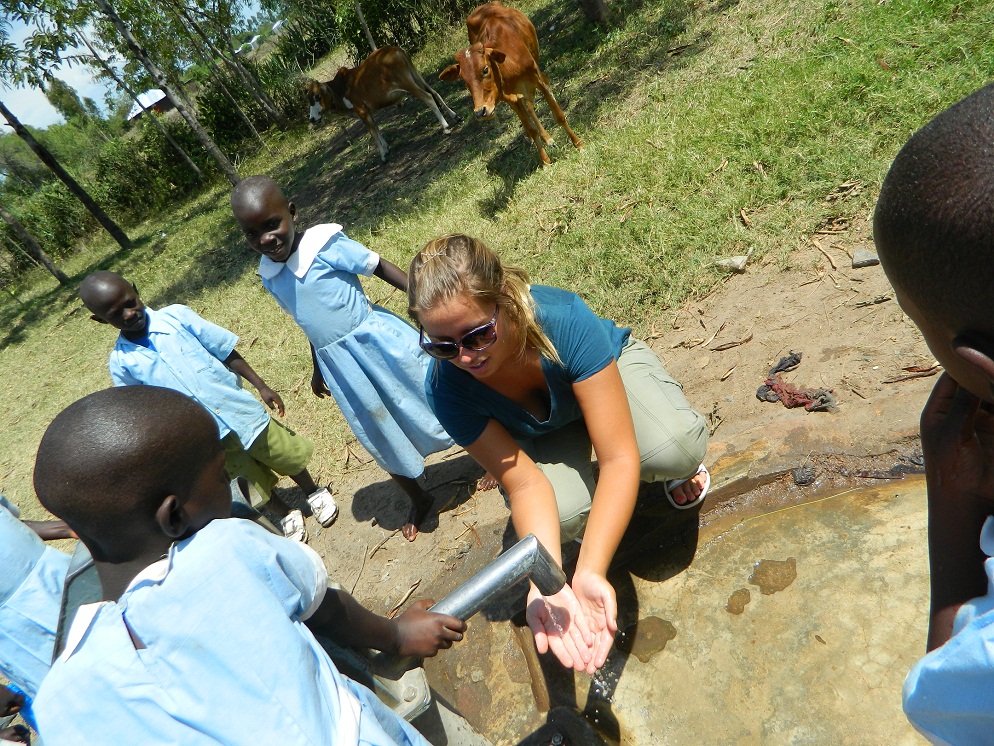 Jennifer Andrusyszyn, Nipissing University: This photo was taken in Ahero, Kenya in March 2013 at a rural elementary school. Here I was able to work alongside my Canadian colleagues and gain valuable  experience. Focusing on water development I was able to take a hands-on approach and learn from the children about their well water system that was available to them at their school.  The opportunity to gain knowledge through a hands-on approach in another culture is an experience that will never be forgotten.
 4.
Jocelyn Sevigny, Queen's University: Of the thousands of photographs that were taken during my overseas adventure, this one is my favourite as it exemplifies how memorable unexpected events can truly be. After travelling overseas for many months with my childhood friend, we found ourselves in Istanbul, Turkey – where this photo was taken. As we stood awestruck under the whimsical dome of The Blue Mosque, we asked a passerby to take our photograph. This moment, captured in a photograph, perfectly embodies the essence of my travels: that the unexpected might just become the most memorable.
5.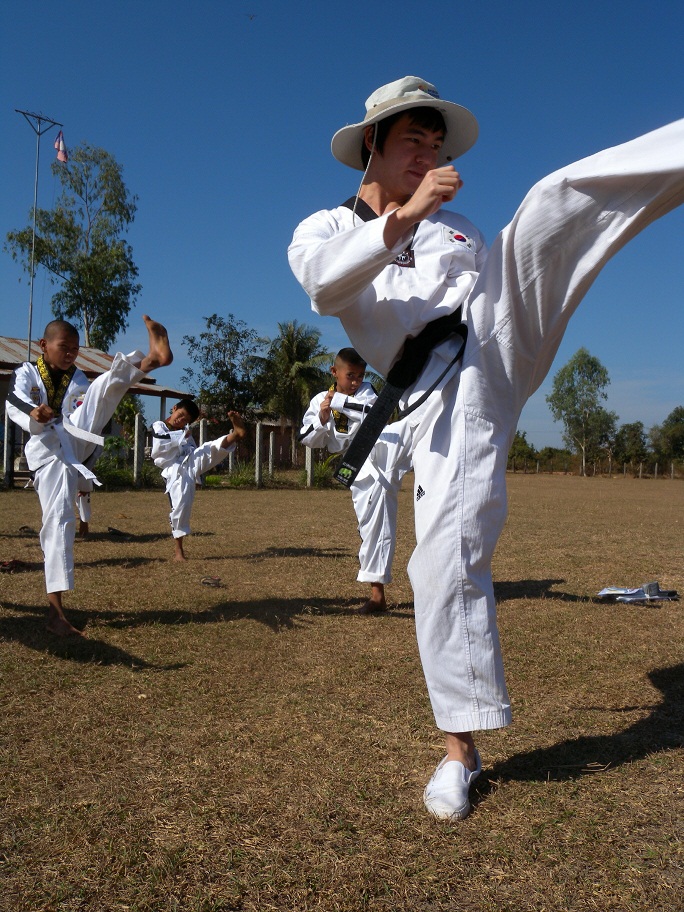 Juntaek Oh, Centennial College: I have been to Laos as a volunteer for two weeks working with companies. The job which we mainly focus on is providing education to the children. We divided the children into five teams: arts, Korean language, computers, Korean traditional music, and taekwondo. I was the leader of taekwondo team and taught the children the basic movements.
6.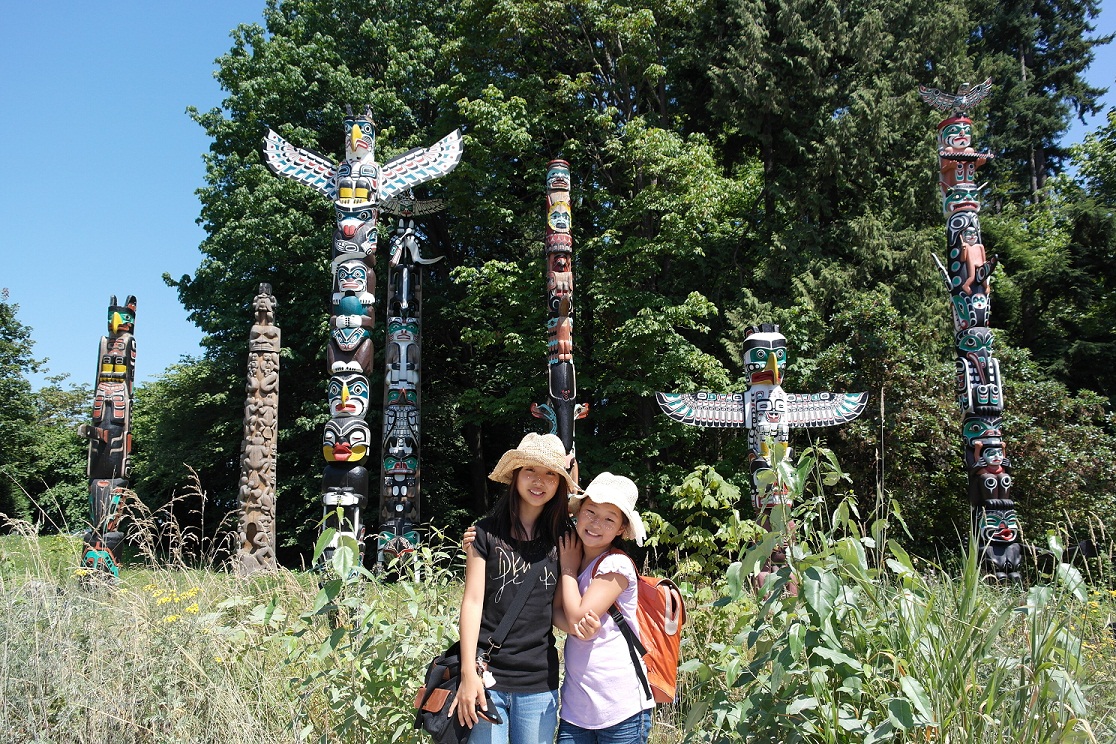 Juyeon Jun, Semiahmoo Secondary, Grade 8: Last year, I came to Canada with my mother and sister. Do you have any idea how afraid I was about living here? But the reason I am here and trying to learn and understand things is that I have hope and a dream, and I am making a  future for myself.
7.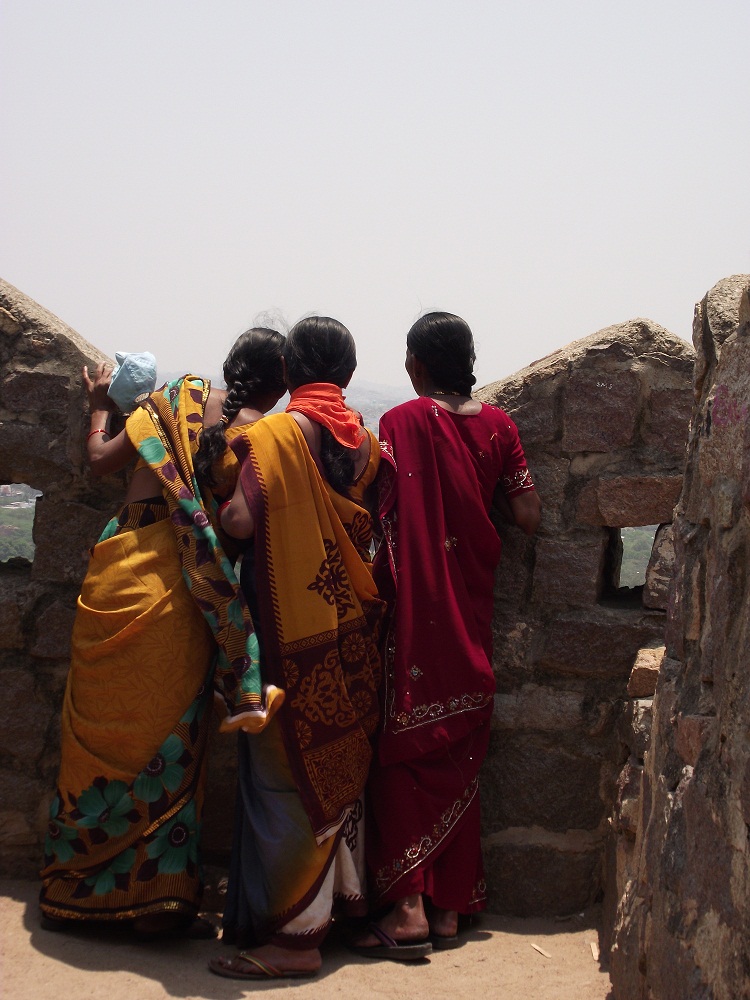 Kate Donovan, University of Victoria: Visiting India for an International Integrative Management exercise for my MBA program taught me that International Business is not just about studying joint-ventures, mergers and acquisitions, export/imports and foreign exchange.  International Business is equally if not more rooted in understanding the worldview of the people in a country and local areas that you want to do business with.
8.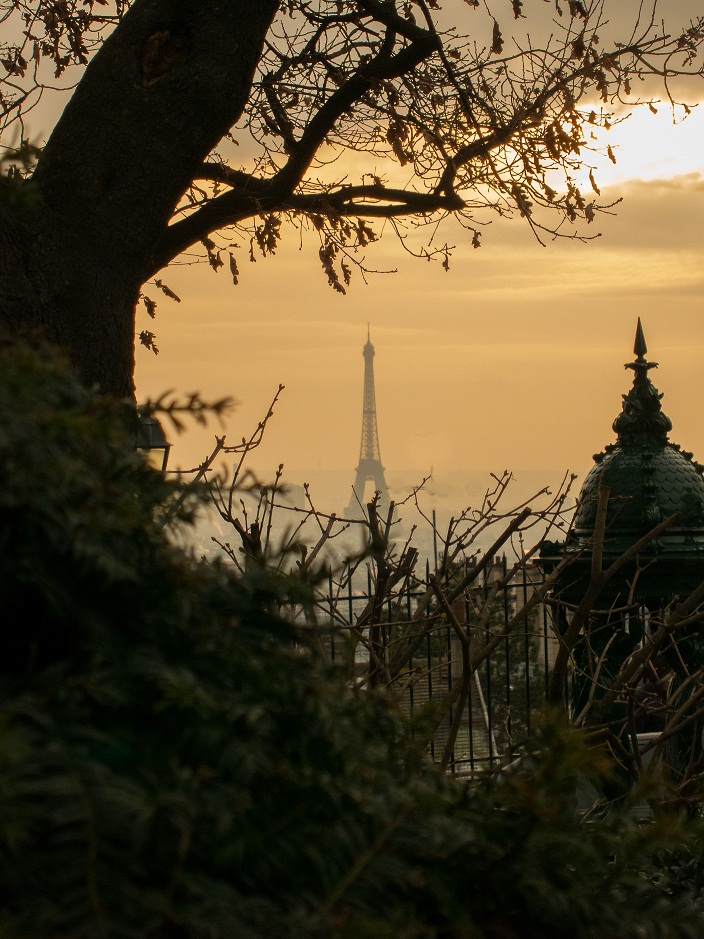 Ken Sekiguchi, Queen's University: Upon landing in France, I was instantaneously out of my comfort zone and disconnected from the networks I could depend up at home (technology and social). Fortunately, being surrounded by students in the same situation allowed us to instantly connect and form long-term friendships. Back in Kingston, my exchange experience continues to benefit me. From having greater awareness about global issues discussed in class to being able to share my experience with current exchange students at Queen's, the experience enabled me to understand what it means to be a leader in a globalized world.
9.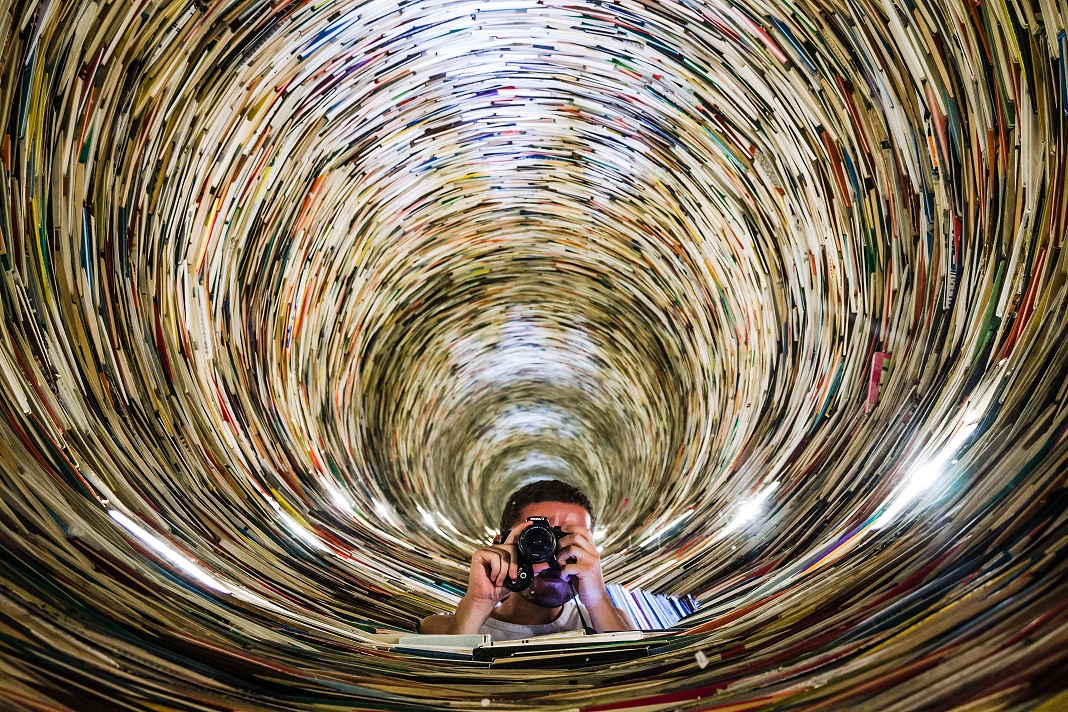 Kurt Mehnert, Simon Fraser University: This photograph is a portrait of myself looking down Prague's Book Tower on my last day of Capilano University's Eastern European Field School. While the photograph of the "Book Tower" looks like it is a never-ending hole of books, it is in fact an illusion viewed form the mirror below. One of Europe's best preserved cities, Prague was the highlight of our trip, as we got to explore and learn about the hidden gems of this city as a class. As a student in International Studies at SFU, this experience abroad allowed my perception of the world to expand beyond the classroom environment, to which a regular classroom lecture would be unable to achieve. This experience helped cement my focus on a career in Europe! For any student, this is the experience of a lifetime, and should be part of anyone's path through education.
10.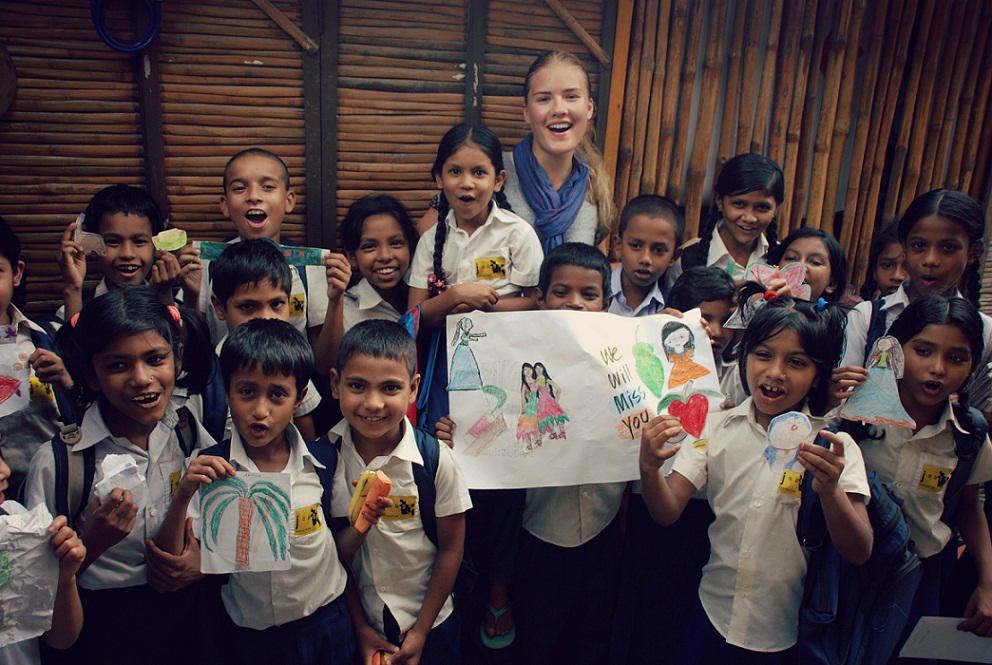 Mariya Podeyko, University of Ottawa: Growing up in Ukraine I've always wanted to find a solution for drastic situations people from the Third World encounter daily. I have always been driven to find a cure for poverty, education and inequality. Applying for an undergraduate degree in International Development and Globalization from the University of Ottawa has impacted my life tremendously. After each class, I have a better understanding of theories and, most importantly, causes for misfortunes underdeveloped nations live with. Knowledge I am gaining every day helps me connect the dots and understand complicated patterns of international scope.
11.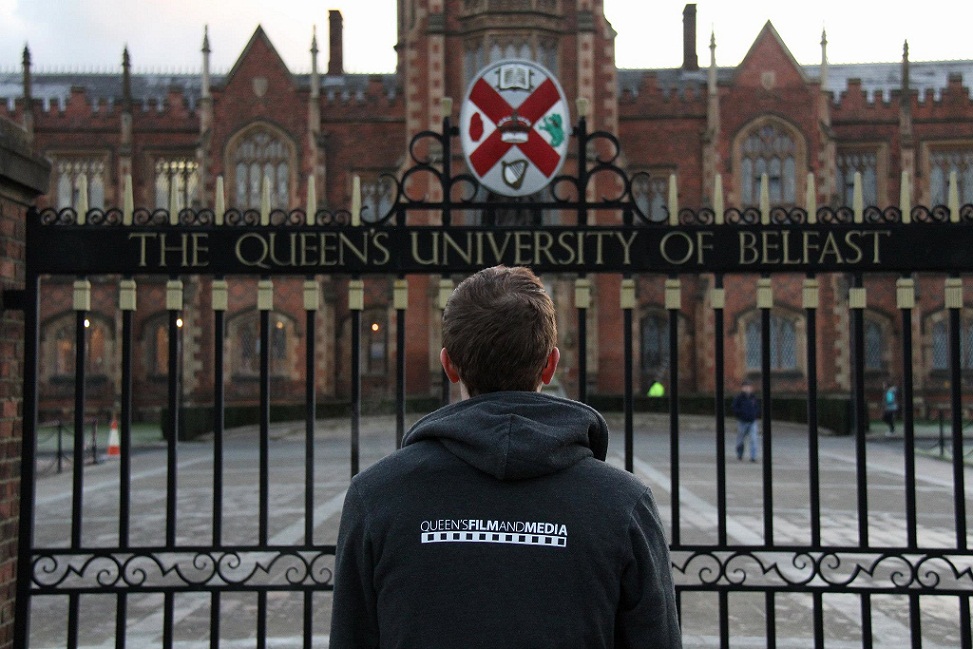 Ryan Thomas Woods, Queen's University: My photograph depicts a moment of self-reflection for me as I am seen wearing my Queen's University Film and Media sweater from my home university in Kingston, Canada while standing in front of The Queen's University of Belfast in Northern Ireland. This photograph is significant because it represents a moment of parallelism in which I came to realize how my cultural exchange had positively influenced my life. By reflecting on my exchange now, I've come to realize that I have transformed into someone I wanted to be: a more confident, open-minded and independent individual.
12.

Trevor Coll, Ryerson University:  The exchange experience not only provided me with a greater perspective on our diverse planet but assisted in redefining my career aspirations completely. Throughout my time in the British Isles, I was fortunate enough to take part in various cultural traditions opening my eyes to customs much different than our own including Scottish Ceilidhs, England's Changing of the Guards and most eye-opening, and Ireland's St. Patrick's Day Festival. Photo-journalism never crossed my radar as a possible career path but after this life-defining cultural experience I have been inspired to tell stories through photographic media, attributing my new goals to the opportunities international exchange allowed me to embrace.
Good luck to the 2014 Student Center Photo and Video Contest Submissions!!
Click to rate this post!
[Total:

0

Average:

0

/5]